Detailed paper model of a German fighter monoplanar Fokker Eindecker from the First World War in scale 1:48. It is supplied as a carton. Parts of the model are cut by laser into the carton 250 g / m2.





Colouring:


First you should paint all individual parts of the aircraft on the sheet on both sides. Paint according to exemplary colour schemes on the back of the pack. You can simply use any colour on paper! Crayons, markers (material effects such as imitation wood or metal can be created with common markers), aquarelle or any kind of water based colours. Further, the airbrush can be used. (Our advice: if you use watercolours for example, do not forget to temporarily fix the laser cut model sheet to a dry clean flat surface before colouring. This will prevent paper curl during drying.)



Assembly:


After colouring release the individual parts of the model sheet. Component pieces of the model are laser-carved. Parts therefore need not be cut out. (To release you can use a knife or scissors.) Follow the instructions in the detailed manual. For assembly use any glue on the paper (water based)! The glue is not included.



The Fokker E.III pack includes:


A paper model carved by laser in scale 1:48 on 250 g/m2 card and detailed manual.

Award: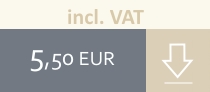 Available: &nbsp

In stock


Category:

Age:


Product code: A - 2002
Packaging size: 23 x 32 cm